Well, 2014 is almost over.  And the promises of one of my favorite trilogies, Back to the Future, remain unfulfilled.
This was the year we were supposed to have flying cars, hover skateboards and a revival of eighties fashion (ok…I'm not so worried about that last one).
Get ready guys – it's going to be a bumpy ride – because it's a Back to the Future themed Ask Away Friday!
What is #AskAwayFriday? Well…
#AskAwayFriday was created by the amazing Penny from Real Housewife of Caroline County as a place to connect with other bloggers by asking them ten questions to really get to know them. It's called "Ask Away" because there are no limits to the questions you can ask!
I've been doing #AAF for a few months now and have met the most amazing bloggers – meet the hosts:
Tamara from Tamara Like Camera,Tiffany from Mrs. Tee Love Life Laughter,Christy from Uplifting Families,Stacey from This Momma's Ramblings andAmber from Bold Fit Mom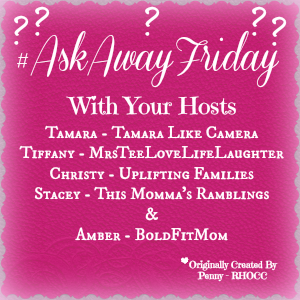 This week, the amazing Echo from Domain of the Mad Mommy has provided me with questions, and I've sent her some.
Echo is a crafty homeschooler – she has two children:  a millionaire's family – boy and a girl, eight and three.  Like me – she blogs about whatever touches her life – she has some fantastic tips for parenting an autistic child, and a threenager, you can read about stuff she's cooked (which all look fantastic), and her occasionally (ok, always) hilarious random thoughts.
If you haven't met Echo yet – you should pop out to the Domain of the Mad Mommy.  And you can follow her on social media: Twitter, Facebook, Google +, Pinterest and Instagram.  You can find Echo's answers to my questions here.
And here are Echo's questions and my answers:
1. Can you believe it is almost 2015?! Just the other day people were worried about Y2K! What were you doing in the year of the new millennium, 2000?
As I recall, Y2K it started off pretty well.  My ex went out and spent several hundred dollars we didn't have on a generator and survival supplies.  I stopped him short of building a bomb shelter.  It was all so exhausting, I slept through the ball drop.
I had no children yet, and although we'd been married about three years, we weren't even talking about them.  I was about a year away from getting the job that would lead me to where I am now.
Truthfully, the rest of the year is a bit of a blur – it falls into the lump of my memories of being with the Goblin King (which are definitely fading).
2. If you could know one thing about the future, with no ill effects, what would you want to know?
I don't want to know anything about me or my family – that would spoil the surprise.  I'd happily take the lottery numbers for the next huge powerball draw though.  I guess it's technically cheating…but I have no moral issues with it.
3. If you could change one thing in your past, knowing it may alter your future, would you?
Not a thing.  I'm tempted to say I'd alter the future though – I've said before that while I'm very appreciative of the Goblin King's DNA contribution – my life (especially today) would be a lot easier if he were not in it (it's one of those days – I'm waiting for the Piano Plane).
4. Did you have any major goals for 2014 that you completed?
I spent an extra eight months at home with my kids this year.  Spending more time with the kids is one of my main goals.
For the first time ever in 2014 I became a landlord!  I've always felt its not a bad way to make money – and a really nice couple is moving in this weekend.
This year, I've also become a "real" writer, I'm a contributing writer at DivorcedMoms, been published on HuffPost (twice!).  I've also become a member of the blogging community and made a ton of new friends.
5. What are a couple of your big goals for 2015?
As far as my job goals – I'm just ramping up a new job search, and had an interview last week that I killed on.  I'm not going to take the job if/when the offer it – but it feels nice to be back in the game.  Finding my next job is one of my main goals in the next few months.
I'd like to see my blog grow and bloom.  And hopefully…not because the Goblin King is giving me a lot of trouble.  I'd like to say that my ultimate goal would be to become a full time writer…but I don't know if I'm ready to commit to that yet.  I would love to write a book.
6. Where do you see yourself in the year 2020? Can you believe it's only 5 years away?!
No, I can't believe it.  But if that powerball win comes in…
Seriously – five years is a long time.  By then, my eldest will be in high school.   My youngest will be in grade 1.  I hope by then the drama with the Goblin King will be less because the kids are older.  I hope we'll have more time (and money) for vacations.  Ultimately though – I'd like to be just as content with the parts of my life I have control over as I am today.  Maybe I'll have gotten around to writing that book.
7. You are part of a blended family, what is the hardest part of that? Co-parenting, sibling relations?
Externally – the Goblin King is the most difficult part of family life.
Outside of that, the whole blended family thing has been great.  I have a fantastic husband who is very supportive – and Puck and Flower love Bae.  I wish we could be a family 24/7 – but even when the kids aren't physically with me, they know I'm there for them.
8. Your Christmas Confession, I bet you could plead holiday insanity… Do you still feel guilty about your participation in the axe murder?
Yes.  So much guilt.  It's like that episode of the Simpsons where Homer ate the lobster.  (Whoops…that's off topic…)

9. You deal with learning disabilities in your family, I deal with Autism. What are a couple of the struggles that you deal with and what are a couple of the joys that you get to experience?
The thing I struggle with the most is I don't understand it.  I feel like a failure sometimes – because I never struggled like he seems to, so I don't have a full grasp on what he's feeling.  I struggle with frustration when something that seems so easy to me is so difficult for him to learn.
I experience joy every time he has an accomplishment – no matter how small.  Learning how to tie his shoes, ride a bike, type at 10 WPM – I'm been so proud of him each and every time.
10. What is the biggest and best thing that you are looking forward to in the new year?
Twenty-fifteen is the big four-oh for me.  I know a lot of women dread getting older – but I'm viewing it as an accomplishment.  I've almost made it through my thirties – and I'm thriving.
I usually take a whole month to celebrate my birthday (both my sons were born in July too).  This year, I'm going to start celebrating earlier – maybe take the whole year.  My original plans to go to Vegas with my girlfriends doesn't seem to be panning out…but maybe a nice vacation (or two or three) away with the family.
And that's my #AAF for December.   Don't forget to check out Echo's answers to my questions!
Follow Live by Surprise on Twitter, Google+, Facebook, Pinterest and Bloglovin